NEW JOLLEY SMILES IN MONTROSE, CO UNDER CONSTRUCTION
December 14, 2017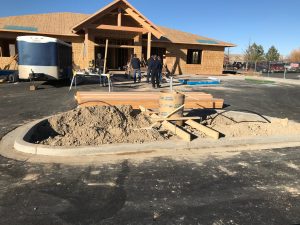 Great to see the new Jolley Smiles in Montrose under construction on a pad site just south of Home Depot.  River City performed survey, civil engineering, site plan review, and construction staking services for Dare-Case Contracting on this project, with Kraii Design as the architect.   The parking lot looks great and the site drains well.  We look forward to the next project in Montrose!
ALEC THOMAS OBTAINS NEW MEXICO LICENSE
July 17, 2017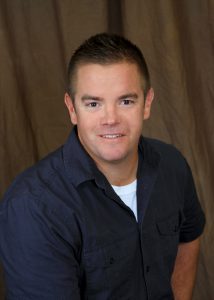 We are pleased to announce that Alec K. Thomas, P.L.S., has become a professional licensed surveyor (PLS) in the state of New Mexico!  Alec adds this license to his Certified Federal Surveyor (CFedS) as well as his Colorado PLS .    With these certifications and others, we are licensed to provide professional surveying and professional engineering services in the greater area of western Colorado, including Wyoming, Utah, and New Mexico.
CITY OF FRUITA WINS GOCO STARBURST AWARD
May 30, 2017
River City is proud to announce one of our projects gaining state-wide attention.  We performed survey, civil engineering, and we are completing floodplain modelling and FEMA mapping services for this project:
http://www.gjsentinel.com/news/articles/short-and-sweet-little-salt-wash-trail-wins-state#When:05:23:00Z
"A short, but well-used section of trail that connects north and south Fruita is a recipient of a Colorado Lottery Starburst Award.
The Little Salt Wash Trail is eight-tenths of a mile, but it allows non-motorized access under Interstate 70, U.S. Highway 6 and the Union Pacific railroad. On any given day, pedestrians, bicyclists and dog walkers mingle on the path that connects the city with the James M. Robb Colorado River State Park."
Congratulations to the City of Fruita for developing such a widely used public amenity!
RIVER CITY TEAMS WIN GRAND JUNCTION REGIONAL AIRPORT WORK
April 25, 2017
River City is pleased to announce that we are part of all three consulting teams that were recently selected by the Grand Junction Regional Airport to provide engineering and architectural services.  Congratulations to our teaming partners,  Mead and Hunt, Garver, and the Blythe Group.  We look forward to working together to provide surveying, land-side civil engineering, and environmental services over the next several years.
ENGINEERS WEEK PASSED US BY
February 17, 2017
In case you didn't realize it, last week was national engineers week:  https://www.nspe.org/resources/partners-and-state-societies/national-engineers-week, which "Dedicated to raising public awareness of engineers' positive contributions to quality of life…".  We hope our clients and project owners are satisfied with the civil engineering, survey, and environmental engineering services we provide.  Stay tuned for additional news on 2017 projects that we have started!
CHIPETA ESTATES SUBDIVISION CONSTRUCTION UNDERWAY
February 17, 2017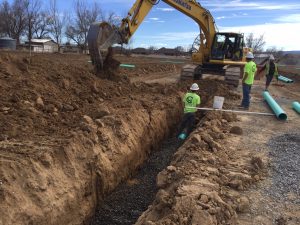 Chipeta Estates Subdivision in the City of Grand Junction annexation area is under construction.  The dirt contractor, CW Construction, has grubbed, cut rough grades, and installed nearly all the sewer mainline.  Not only are they moving fast and taking advantage of the unseasonably warm weather, CW is running a very clean and organized construction site!   River City Consultants performed survey and civil engineering services for this project.  Currently we are also providing construction inspection services as well.
FREDDY'S CLOSER TO OPENING!
February 9, 2017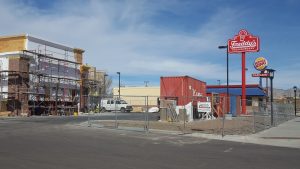 Freddy's Frozen Custard and Steakburgers construction is progressing!  We look forward to the opening and trying out new food options in Grand Junction that will be available at 739 Horizon Drive and 2489 Highway 6.   River City Consultants performed civil engineering and survey services for the location on Horizon Drive and engineering services for the Highway 6 location.
2017 BEGINS WITH POSITIVE ECONOMIC NEWS
January 27, 2017
This week Mesa County received two positive economic indicators.  First in real estate, where sales have continued to increase in both price and volume through the 4th quarter of 2016, and inventories continue to fall.  In addition, the Mesa County School District has experienced an increase in student enrollment.  Continuation of these trends bodes well for the land development and construction industries.  River City Consultants is excited to continue to provide survey, civil engineering, utility locating, and environmental services on future projects that will result from some moderate growth.
RIVER CITY CONSULTANTS INC EMPLOYEE JOINS GRAND JUNCTION HOUSING AUTHORITY BOARD
January 18, 2017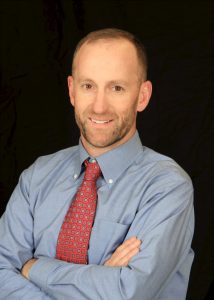 One of our owners, Ivan Geer, recently started a 5 year term serving on the Grand Junction Housing Authority board.  The Grand Junction Housing Authority is a top notch organization with decades of experience providing sustainable housing solutions to meet the needs of a variety of constituents groups in our community.  Through the efforts of Executive Director Jody Kole and her staff, our local housing authority is competitive at obtaining funding for land development and construction projects.  As a result, residents of Mesa County receive both the housing assistance and the economic benefits of employing architects, civil engineers, surveyors, and construction professionals.  Mr. Geer looks forward to volunteering for the housing authority as his six year term serving the Twenty-First Judicial Nominating Commission for Mesa County, Colorado, comes to close at the end of 2017.
RIVER CITY CONSULTANTS INC SURVEYS GRAND JUNCTION REGIONAL AIRPORT 
January 4, 2017
Partnering with Cartographic Edge Inc., RCC recently completed a survey for upcoming improvements at the Grand Junction Regional Airport for Armstrong Consultants.  Armstrong is the lead consulting engineer for upcoming improvements, and contracted RCC to develop an accurate topographic map of the project area.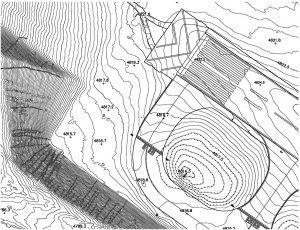 RCC established a network of ground control which CEI used to combine aerial imagery and LIDAR mapping to develop a high accuracy base map from over 3,000,000 data points.  Expanding our local airport is an important economic development project, we are excited to be part of the design team!
Stay up-to-date with our latest news and announcements. Learn about our industry advancements, new projects, and the goings-on of our group here at River City Consultants, a full service firm providing civil engineering, survey, environmental consulting, and utility locating services.  Keep up to date with us and other happenings, follow us on Facebook and LinkedIn.
RIVER CITY CONSULTANTS INC WELCOMES IVAN GEER AS CIVIL ENGINEERING CONSULTANT
November 29, 2016
RCC is excited to expand our scope of services with the addition of Ivan Geer, P.E. Mr. Geer has over 20 years of experience in engineering consulting, construction materials, and operations management. His project portfolio as a consultant includes wastewater, hydrology, storm water, water resources, environmental compliance, and project/construction management. Mr. Geer worked in the aggregates, ready mix, concrete pipe, precast, and pipeline industries in many roles from engineering to project management. More recently in operations management, he was responsible for all facets of aggregate mining and production from inception, lease negotiation, planning, permitting, budgets, schedules, production, estimating, safety, and reclamation. This broad experience has encompassed permitting with multiple local, state, and federal agencies in western Colorado.
---