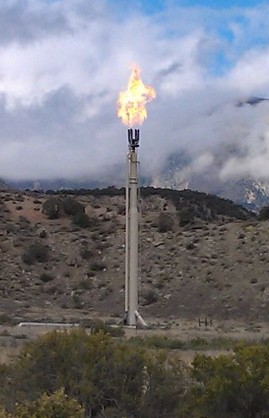 In addition to general civil engineering and land surveying services,
River City Consultants also provides a diverse range of support services for the various aspects of energy and mining industries from development to transport
. We have completed
numerous energy and mining support services projects throughout Western Colorado and the Piceance Basin
, and have an
extensive resume of oil, gas, and mineral resources clients
for whom we have provided a variety of services.
We are familiar and compliant with stringent safety programs common to the industry and are members of safety and monitoring programs including PEC Safety, IS Networld, and DISA. In addition, we regularly follow the Bureau of Land Management's Surface Operating Standards and Guidelines for Oil and Gas Exploration and Development: The Gold Book and other standards. In fact, recent study we completed of private oil and gas access roadways in a nearby county were so thorough and complete, the county has decided to use our report as the gold standard for assessment of future submittals for similar county roadways in an effort to ensure all are within policy compliance (read more about this).
River City Consultants uses state-of-the-art technology including the most current versions of AutoCAD Civil 3D and GPS/GIS equipment and software to ensure our clients with high-quality and complete and accurate information. We currently have two Professional Land Surveyors on staff, in addition to CAD designers and survey crews. Our surveying staff is experienced in design and control surveys and is familiar with Mesa County's GPS infrastructure and local coordinate system. Our field crews are trained to evaluate existing features and anticipate the needs of the designers when collecting data for design surveys. With the exception of some data collected for post-processing, GPS and RTS observations are all collected and processed electronically, greatly enhancing the accuracy of our data.
In addition, we are familiar with and have long-standing relationships with local key firm project participants for energy-related projects necessary to provide services such as geotechnical investigations to ensure our clients with a full-project experience throughout all phases of the project, from preliminary investigations to successful project completion.
Below is a sampling of the many services we are able to provide:
Engineering
Drainage and Surface Grading Plans
Pad/Staging Area Site Design/Layout and Grading
Roadway and Access Design
Federal, State, and Local Permitting
Erosion and Sediment Control
Stormwater Quality and Management
Stormwater Treatment Plans for Well Pads, Pipelines, Roadways, and Other Linear Projects
GeoComposite Liner System Design
Pipeline Design

Pond Design and Lining
Compressor Station Design
Water Treatment Plant Design
Surveying
Construction Staking – Roads, Well Pads, Compressor Stations, Tank Sites
Location Surveys – Compressor Stations, Piping, Instrumentation Diagrams
Geodetic Control Surveys
Aerial Mapping Surveys
Pipeline Surveys
Well Location Surveys
Subsidence Surveying and Monitoring
ALTA/ACSM Land Title Surveys
Boundary/Cadastral Surveys
GPS Control Surveys
Topographic Surveys
Floodplain Certificates
FEMA Elevation Certificates
Easement Surveys and Descriptions